A female mate for Tam at Christmas spells survival hope for species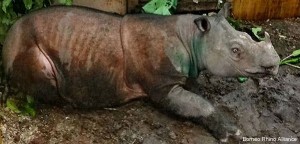 It is hailed as a Christmas miracle which spells hope of survival for the almost extinct Borneo Sumatran rhinoceros. After three years of searching, the Sabah Wildlife Department and the Borneo Rhino Alliance (BORA) have announced that they have captured a young female one in the Sabah rainforest. Named "Puntung", she is between 20 and 30 years old. And she has been airlifted into a forest enclosure of 20 hectares in the Tabin Wildlife Forest Reserve where she is expected to mate with Tam, a 20-year-old rhino which was rescued in 2008 while wandering in an oil palm estate.
"It is an ideal age for breeding," says Junaidi Payne, executive director of BORA. But previous attempts in the 1980s and 90s to breed Borneo Sumatran rhinos in captivity failed. Payne is "cautiously optimistic" that this time it might succeed.
He notes that they don't seem to mate in the wild. "We have monitored her since 2007 and there is no sign that any other rhino has entered her range in the past five years," Payne says.
Nobody knows how many Borneo Sumatran rhinos remain; but wildlife officials say there may be less than 40 of them. – Insight Sabah (29 Dec 2011).