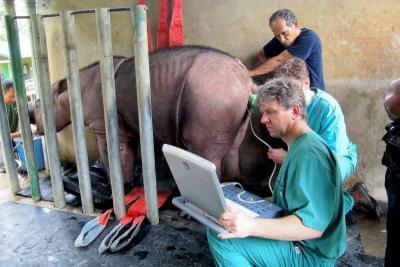 By Ruben Sario
KOTA KINABALU: A team of veterinarians is treating a female rhino in the east coast Lahad Datu district in the hope that the animal will eventually be able to breed.
Puntung, the sole fertile female Sumatran rhino at the Borneo Rhino Sanctuary (BRS) in the Tabin Wildlife Reserve, had been examined and treated in the past several months to improve her chances of conceiving.
Borneo Rhinoceros Alliance (Bora) executive director Dr Junaidi Payne said the examination was carried out by specialist veterinarians from the Leibniz Institute for Zoo and Wildlife Research (IZW) in Berlin, led by Dr Thomas Hildebrand.
The veterinarian team was roped in after an ultrasound examination on Feb 24 showed that Puntung was suffering from endometrial cyst growth, a painful condition that could hinder the sperm from reaching the ova as well as prevent the implantation of embryos on the uterine wall.
Dr Payne said BRS officials were now deciding whether to let Puntung breed naturally or opt for artificial insemination.
Sabah Wildlife Department rangers had airlifed Puntung from a solitary life on a hill range at Tabin two years ago to be a mate for the male rhino, Ketam, at the sanctuary.
Wildlife conservationists were hoping that both animals would eventually be able to produce an offspring to help save the highly endangered species, of which only an estimated 200 were left in the wild in Sabah and Sumatra.
The Sabah government had initiated the BRS in 2009 to stave off the extinction of the Sumatran rhinos here with Yayasan Sime Darby, contributing RM5mil to the cause over the past three years.
The foundation, the philanthropic arm of the Sime Darby Group, had also committed another RM6.4mil for the development and operation of the BRS programme over the next three years.
Meanwhile, Bora chairman Dr Abdul Hamid Ahmad said the priority in the husbandry of captive wildlife was the animal's health, including reducing all forms of biological and mental stress.
"There is no point in maintaining a breeding programme if animals die through poor hygiene and if their reproductive potential is depressed through stress," he said.
Read the article in The Star