by Kathleen A. Michael, The Star Online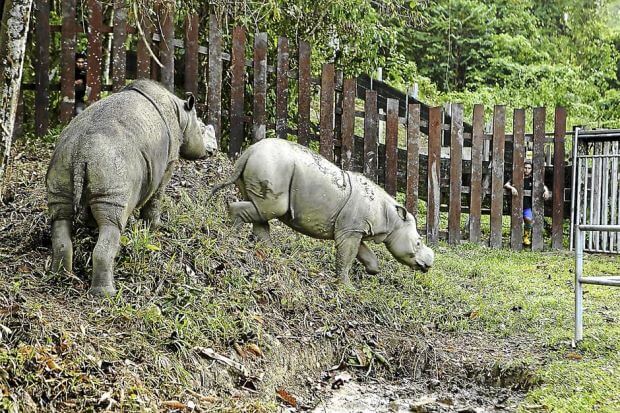 THE Sumatran rhinoceros once thrived throughout South-East Asia but the species is now confined to the islands of Borneo and Sumatera.
Today, they are considered the most critically endangered wildlife in the world. There are fewer than 10 Sumatran rhinos in Sabah and fewer than 100 in Sumatera, Indonesia.
Currently, Sabah has a fertile male named Tam and a sub-fertile female named Puntung at the Borneo Rhino Sanctuary interim facilities in the Tabin Wildlife Reserve. There is also another female rhino, Gelogob, who is too old to breed at the Lok Kawi Wildlife Park.
The species has almost disappeared because there are only a small number of rhinos left in any one place, making breeding in the wild difficult.There are plans to confine the last remaining Sumatran rhinos for breeding within a natural forest. Last month, the construction of a breeding and holding facility commenced at Datum Valley, an area believed to hold the last remaining fertile Sumatran rhino in Malaysia.
A charity polo tournament is being organised to raise funds to support the construction. The Rhino Cup, in partnership with Borneo Rhino Alliance (Bora), aims to raise a minimum of RM100,000 towards the cost of building the Borneo Rhino Sanctuary in Danum Valley.
"We aim to assist Bora in their efforts to breed rhinoceroses," said Rhino Cup head organiser Adilla Jamaludin.
The event will also feature a bazaar and live music from Blastique, Victor Trixter and a-marQ during the day while Gregory Ramanado and Bazli will entertain the crowd at night.
It will be held from 3pm on Oct 20 at the Royal Selangor Polo Club.
The event is open to all with an admission fee of RM20. For details visit www.facebook.com/therhinocup.