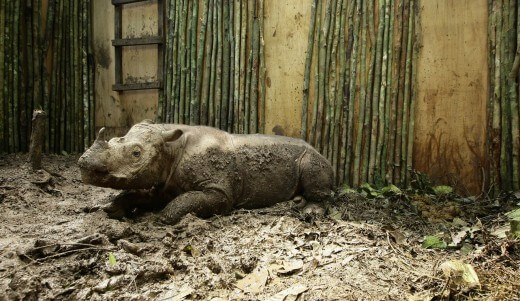 The Star Online: 10 August 2016  KOTA KINABALU: Wildlife researchers are hoping to have more success in future captive breeding of the highly-endangered Sumatran rhino after successfully fully sequencing the genome of the animal.
This will enable the scientists to identify the genes causing health issues to rhinos in captivity and preventing them from breeding.
These include iron overload disease and reproductive tract problems, said Dr Love Dalen of Swedish Museum of Natural History (SMNH).
SMNH was involved in the genome sequencing together with the Sabah Wildlife Department, the Danau Girang Field Centre (DGFC) and Borneo Rhino Alliance (BORA) using the blood sample from Tam, one of the three remaining Sumatran rhinos in captivity.
 "Identification of candidate genes and mutations will enable comparisons to human counterpart diseases, thereby leading to a better understanding of the causes and consequences of these diseases in rhinoceroses," she said.
"We can then directly apply this information to captive breeding programs and rhino management with the hope of saving this species from extinction," said Dalén in adding that the information would be available to anyone once it was published.
Sabah Wildlife Department assistant director Dr Sen Nathan said apart from Tam, they had also collected blood sample from other rhinos in captivity – females Puntung and Iman – as well as Gelugob before she died in 2014.
"We were ready to do everything we could to save the Sumatran rhinoceros from extinction and understanding the reasons behind their lethal pathologies was something we wanted to investigate," he said.
Dr Sen, however, added that the sequencing the genome would not lead to any immediate possibility of cloning the Sumatran rhinoceros.
"Other technologies that would so called save the Sumatran rhinoceros from extinction are at a theoretical stage and there are several reasons why these technologies may not work at all," he said.
"Therefore, using cloning or genome editing are not substitutes for the current captive breeding efforts and advanced reproductive techniques being carried out by Bora and the department," Dr Sen added.
Danau Girang director Dr Benoit Goosens said the genome sequencing initiative would enable scientists to better understand the pathologies that have decimated the Sumatran rhinoceros population in the wild and in captivity.
"Even if it is probably too late to save the species in Sabah, this research can hopefully assist our friends and Indonesian colleagues in Sumatra and Kalimantan in their endeavour to save this emblematic species from extinction," he added.
Read the original article here