The Star Online, 8 June 2017
Malaysia's hopes for preventing the extinction of the Sumatran rhino through in vitro production of embryos narrowed further when in vitro specialist Profesor Arief Boediono determined that the ovaries of Puntung, who was put to sleep on Sunday, contained no oocytes. Malaysia now has to rely on the last female Sumatran rhino, Iman, to be the supplier of eggs.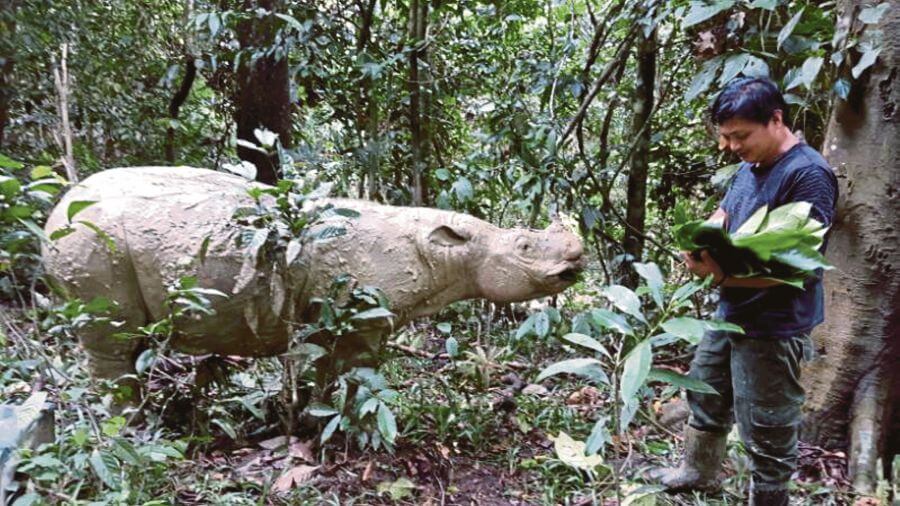 "No oocytes (egg cells) were found in the follicles of her ovaries. It was very unfortunate," said Sabah Wildlife Department director Augustine Tuuga on efforts to preserve Puntung's bloodline after the animal was euthanised as her skin cancer was deemed untreatable.
Scientists were hoping to fertilize Puntung's egg cells with frozen sperm obtained from the sole captive male rhino in the country called Tam, in a bid to reverse the fate of Sumatran rhinos, which were considered extinct in Malaysia since 2015.
Right after Puntung was euthanised, veterinarians removed her ovaries and flew them to Agro-Biotechnology Institute in Serdang, Selangor, on the same day for the egg harvesting process.
In the event viable eggs were found, Indonesian reproductive specialist Prof Arief Boediono would then inject Tam's sperm into them for insemination.
In the meantime, tissue samples of Puntung are now kept in several Malaysian institutions so that her genome can still be preserved.
Puntung captured global attention in recent months after top veterinarians from various parts of the world came forward to assist in what initially appeared to be a bad case of tooth infection.
With Puntung's demise, the sole remaining captive female Sumatran rhino is Iman.
Previous attempts to get Iman and Puntung to mate with Tam were unsuccessful as their uteruses were lined with cysts.
Last December, Borneo Rhino Alliance executive director Datuk Dr John Payne said advanced reproductive and cellular technologies could be the only methods left to ensure the survival of the Sumatran rhino in Sabah.
Conservationists believe that the remaining Sumatran rhinos, whether in Indonesia or Malaysia, could contribute their genes to produce babies.
The surviving wild population of Sumatran rhinos, estimated to be only several dozens, are still roaming Indonesia's Sumatra and Kalimantan.
Read article on the The Star online
This article has been edited slightly for factual correctness.