This commentary by rhino expert John Payne urges the use of all available technologies to raise birth rates of Sumatran rhinos where they persist in Sabah and Sumatra.
14 January 2016 / Commentary by John Payne
The announcement on 9 December 2015 of the first births of healthy puppy dogs from in vitro fertilization was greeted with a few predictable comments (e.g. "test tube dogs … don't we have enough homeless dogs already?") but in general positively in the usually separate worlds of mammalian reproductive research and dog-lovers. Its potential relevance to critically-endangered wild mammal species was mentioned by the authors of the paper, but seemingly drew few remarks from people concerned with wild mammals that are endangered with extinction.
There are five extant rhinoceros species (two in Africa, three in Asia, all endangered), representing four genera, which tend to be lumped by non-specialists as if they are one, comparable to assuming that orang-utans, gorillas, chimpanzees and bonobos can all be treated in the same way. For three rhino species (both African species and the Greater Asian One-horned), which live in extensive, lightly-wooded or grassy habitats (and which have received by far the most attention and funding over the past fifty years), the concept of simply protecting rhinos and habitats, with periodic rhino translocations, has essentially worked. Massive poaching is now the major problem to address. Experts in the African and Greater Asian species assume that the other two Asian rhino species (Sumatran and Javan) will be saved by the same approach. I suggest that this view is incorrect.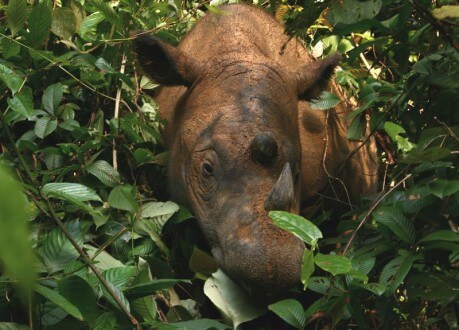 I have been involved for nearly four decades in endangered wildlife work in Malaysia and Indonesia, most closely with the Asian Two-horned Rhinoceros, Dicerorhinus sumatrensis, commonly known as Sumatran rhinoceros. Early on, I believed that a combination of a protected areas and a global captive breeding program would save the species. Now that the species is on the edge of extinction, it is clear that neither method has worked, and that the only options are to give up entirely, or engage in a new approach, where the sole and uninhibited goal is to produce as many individual Dicerorhinus rhinos, as soon as possible. [Read more…]